I work as part of the UX team at ClearPeople. In my role, I have seen time and time again that the discovery phase of a project is often shortened or cut altogether due to budget and/or time restrictions.
However, from a user experience perspective, the research phase (or discovery phase, as we call it) is the most crucial element to the successful development of a digital product. It's where we, as designers, get to understand your users, business and overall goals to be able to strategically deliver a platform that surpasses expectations.
We recently hosted an event in our London office entitled "The Intelligent Workspace - Discovery in a Day" where we introduced attendees from a variety of sectors to UX research methods with the aim for them to be able to utilise them within their own businesses to improve the way they conduct research.
The results were invaluable. Whilst introducing people to the UX research methods we also saw a lot of commonalities come through the research that encompassed all sectors. It was great to see social barriers dissolve throughout the day as people became animated and excited to share their knowledge and experiences in similar situations.
The aim of the workshop was to create a fictitious company and go through a series of workshops where to truly understand the users, stakeholders and their perspectives and identify business goals for the company intranet. This then would equip attendees with the knowledge of what internal resources would need gathering when developing their own collaboration infrastructure and give an idea on the return on investment to expect from delivering a platform that works.
The UX research methods covered were:
Defining business objectives via dotmocracy (an established facilitation method used to describe voting with dot stickers or marks with a marker pen)
Empathy mapping and personas
Moments of delight and pain points
Card sorting to create the ideal landing page in terms of information architecture
Defining business objectives via dotmocracy for a digital workspace
The workshop was made up of knowledge managers, intranet managers, comms and marketing professionals and IT folk - so we had a wide range of viewpoints. Interestingly however, the same themes came up consistently.
We asked people to write down their ideas on post-it notes (one point per post-it). As facilitators we arranged and grouped the post-it notes into categories before validating these with the group. They then voted with dot stickers at the same time (to reduce people's opinions swaying others).
The overall categories and their dot rating are shown below: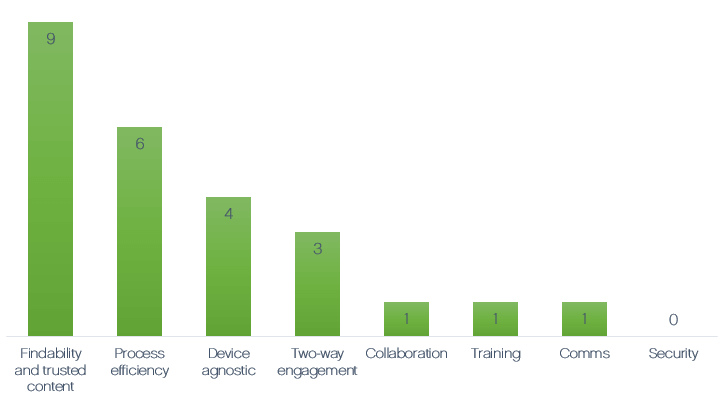 It's hardly mind-blowing that findability and trusted content came out top. How common is it that you search and search for a document and you need to ask at least three people to find it?
If people can't find what they want on a company intranet, why would they return again? The term "intranet" was deemed to already have negative connotations so getting the search right and re-branding is imperative to changing people's attitudes towards the platform.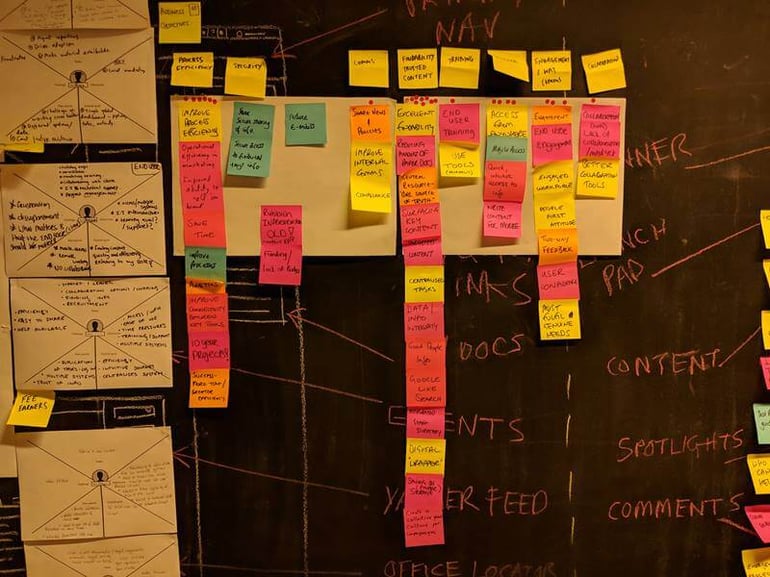 Empathy mapping and personas
Empathy mapping and persona development puts users at the heart of the problems you're trying to tackle to provide real value and solve real problems. After all, who will be using the platform most?
To create the personas we must consider:
What tasks will people be completing?
What influences those tasks?
What feelings go with these tasks?
What are the current pain points?
What is the overall goal for this user?
Different users have different profiles built up by these questions which allow you to paint a picture of what the digital ecosystem must enable to be successful.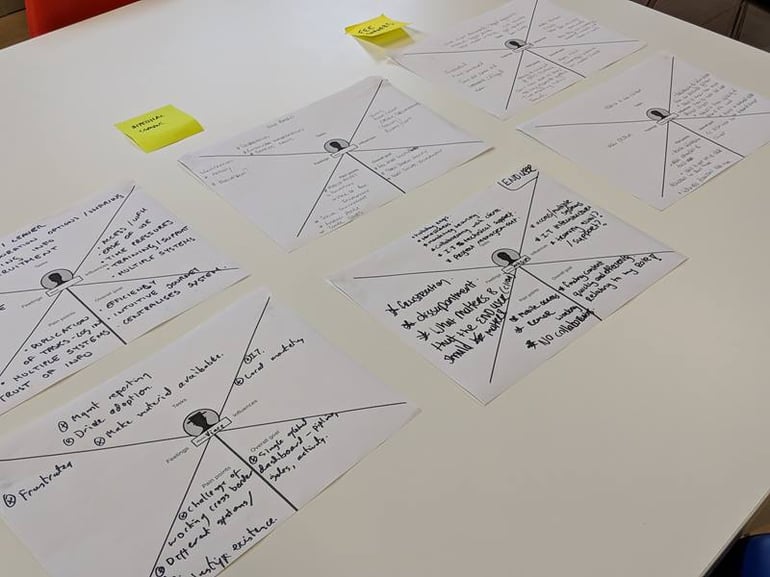 Moments of delight and pain-points
This exercise always unites people because regardless of what sector you work in, you usually share some common high-level problems so it's nice to know you're not alone.
The outcomes from the pain-points drew a lot of answers with some common themes
System performance inhibiting the way you work
Different systems for everything which leads to distractions and confusion
Inefficient search, can't search all the content at the same time
Duplicating files/ files being out of date
Ugly look and display
No publication workflows
Moments of delight are always shorter, but it's important we don't forget the good things when re-designing a digital workspace. It keeps things familiar, making adoption and change go more smoothly.
Ability to manage without IT or other tech person
Integration with Active Directory
Single sign-on
Manage integration and bespoke publication functionality
Search auto-complete
Integration with financial content and matter information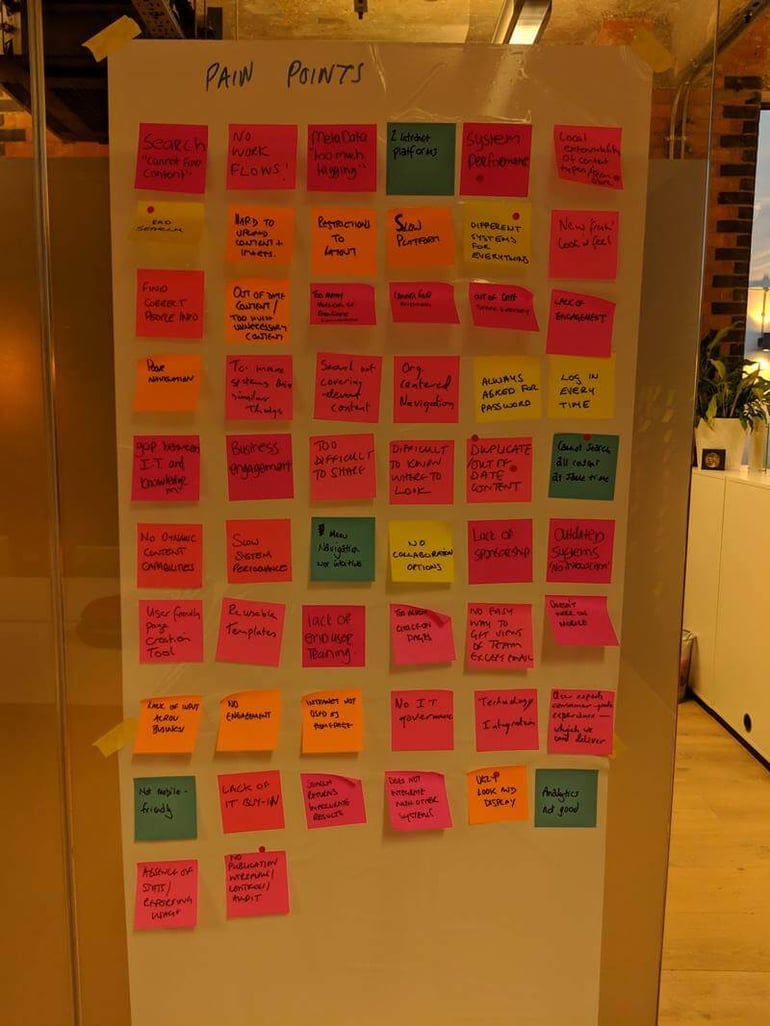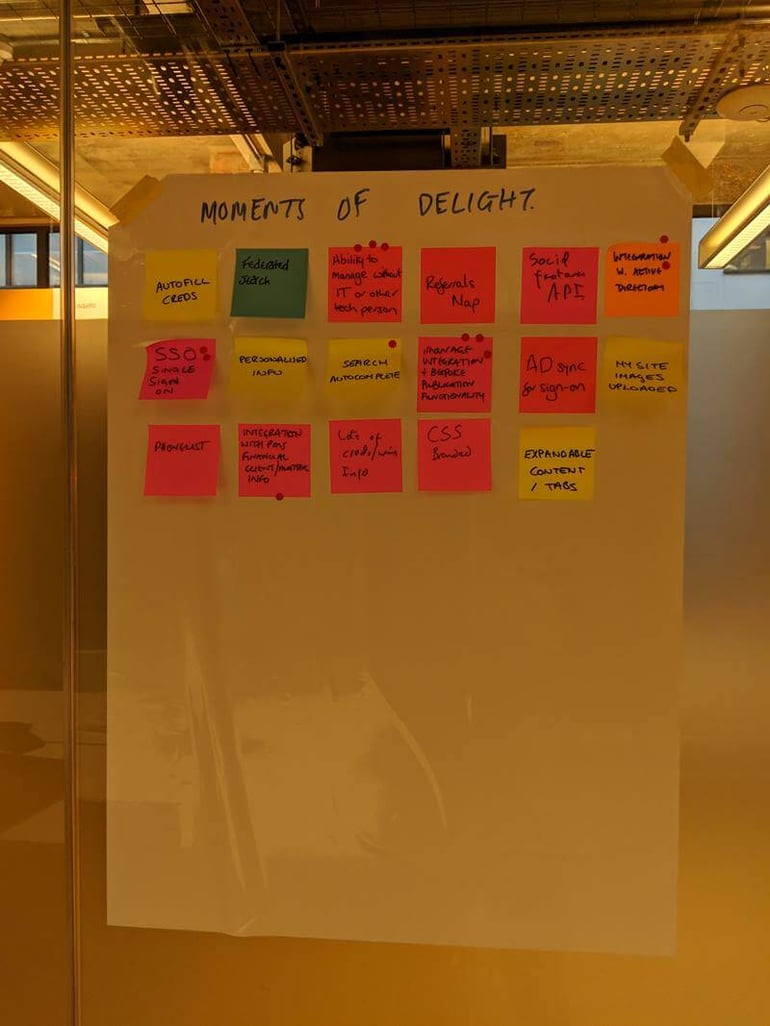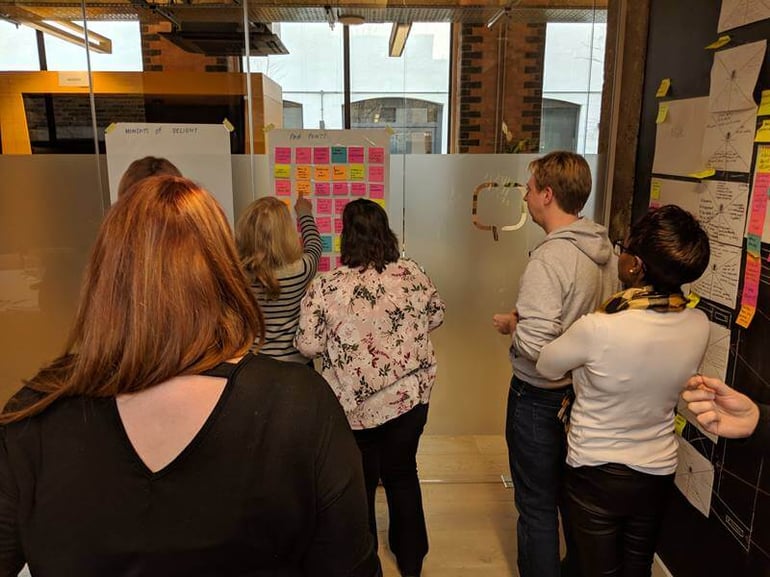 Card sorting to create the ideal landing page in terms of information architecture
Having got everyone into the right frame of mind of what their users want, they were set a task to draw an ideal landing page with webparts that ClearPeople provided. The landing pages were then presented back so everyone could explain their rationale.
The same common patterns emerged regarding:
Key contacts and page owner to give accountability and governance
Polls to enable engagement and feedback
FAQs for quick answers
Useful documents highlighted
News to keep everyone up to date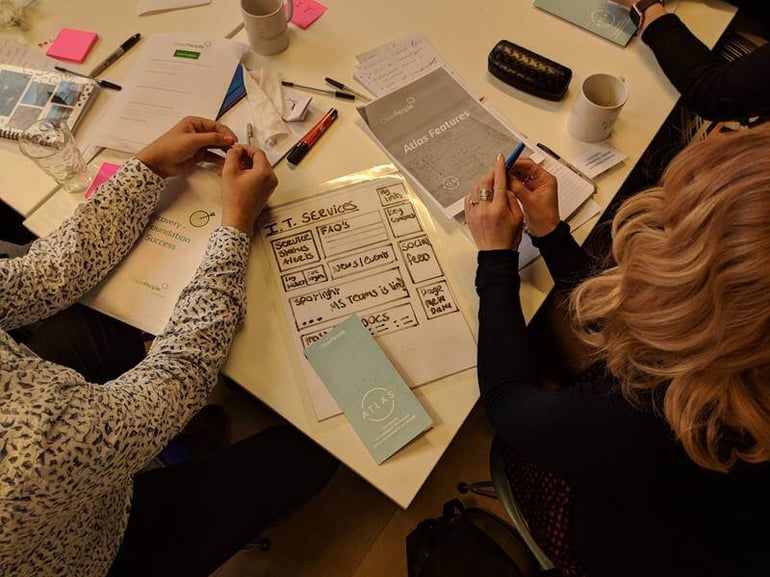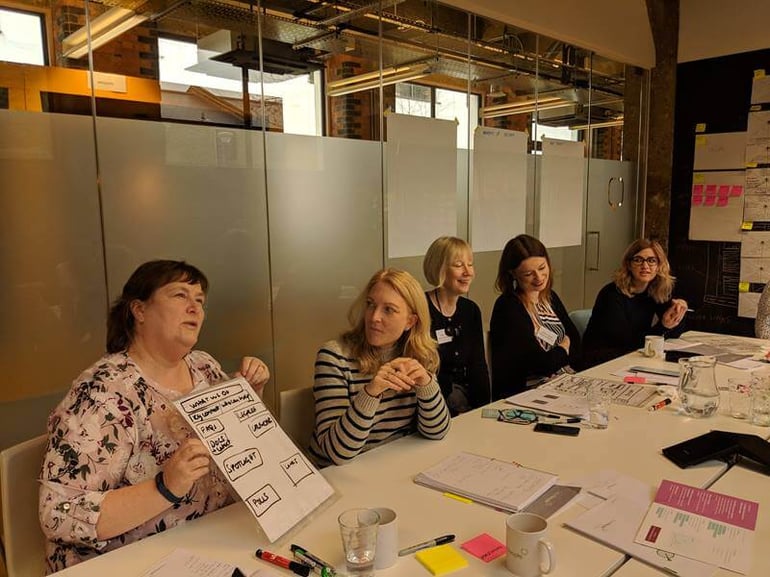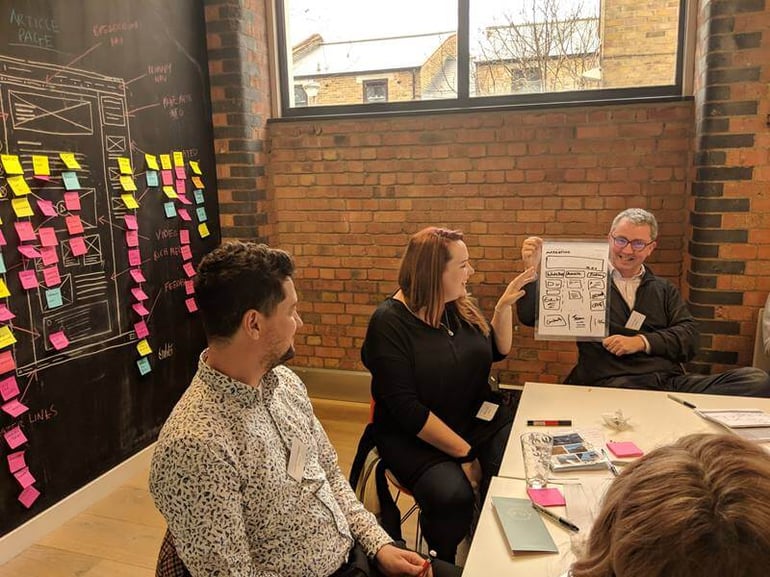 So, what do all these sectors have in common and how can ClearPeople help them?
It was clear to see that everyone had issues with findability, de-centralised systems, lack of engagement and access across devices.

We took the opportunity at the end of the workshop to demonstrate Atlas – ClearPeople's intelligent workspace solution. Atlas accelerates and facilitates the path to adopting a highly mature communication and collaboration infrastructure. It focuses on giving users simpler and faster access to information, to easily contribute more and to deliver better outcomes.
There was a very positive feeling in the room that Atlas has the potential to resolve many, if not all, of the problems that the day's workshop had brought to the surface. We're constantly innovating the framework based on our research and would be happy to discuss it in further detail with you.
To find out more, check out Atlas here or contact us today to talk about your research and discovery requirements.