Knowledge management definition
Before discussing knowledge management, we need to understand what we mean by "knowledge". Knowledge is related to, but distinct from, data and information.
Theirauf (1999) defines the three components as follows: data is the foundation level, an unstructured collection of facts and figures;
information is the next level, and it is regarded as structured data; finally, knowledge is "information about information".
Data refers mostly to factual information. Knowledge can be defined as the ability or capacity of an individual who has been trained on some subject (such as medicine) that enables them then go out into society and share what they know with others so that their skills may benefit everyone around them.
Knowledge management is the control and organization of knowledge. "It is a sum of skills, experiences, capabilities and expert insight, which you collectively create and rely on in your business. As a shared resource, knowledge shapes and affects all the activities in and around your business". (NIBusinessInfo.co.uk)
The definition of knowledge management provided by Gartner Group is as follows: "Knowledge management is a discipline that promotes an integrated approach to identifying, capturing, evaluating, retrieving, and sharing all of an enterprise's information assets. These assets may include databases, documents, policies, procedures, and previously un-captured expertise and experience in individual workers."
The practice of knowledge management is applicable within any business. The context to which the knowledge is applied however is very specific to an organization's needs, and differs from business to business.
Knowledge Management is therefore about knowledge, understanding and wisdom. Its focus is on finding, gathering, assessing, and sharing information and knowledge.
Knowledge falls into three categories:
Tacit: "know-how", knowledge based on skills, experience, intuition. It sits in people's mind and it is not easily transferable.
Explicit: "know-what", knowledge found in e.g. books, manuals, videos, etc. that can be expressed verbally or in writing so can be easily shared with others.
Embedded: knowledge within the organization's processes, rules, products and culture. This is found in policies, codes or conduct, organizational ethics and informal routines.
Some of the forms knowledge takes include: t
he data you've gained about your industry and/or market; t
he experience, expertise and competence of your people; y
our files and documents; c
ustomer data and i
deas for new products or services.
All of these have value for your business.
Your organization's knowledge is unique: it's what sets you apart from your competitors, it drives your business activity and the way it flows - or doesn't - affects your productivity. Knowledge management in business is a systematic approach to capturing and utilizing your organization's collective expertise to create value. And good knowledge management results in the coherent and productive creation, sharing and application of knowledge at all levels of the business.
What happens when business knowledge management is lacking? Knowledge is an asset and has a measurable monetary value. Where knowledge accumulates only in employees' heads and stagnates across disconnected systems, its value is diminished. Once knowledge is valued as an asset like people, customers, brand and cash, the importance of business knowledge management becomes clear.
Good knowledge management translates into the ability to make decisions and enhance everyday work activities with that distributed knowledge.
---


You may also be interested in reading this blog:
Should employee knowledge sharing software be an investment priority?
---

The process of effective information management
Information management enables organizations and their teams to work more efficiently and effectively when they can rely on accurate and timely information and data.
The process of information management encompasses a cycle of different activities:
Collection

- collecting information can be in many different forms such as written, oral, electronic, audio or video. Only collect the information that is needed and can be trusted.

Storage

– storing information is important for analysis, legislative requirements, historical trends, etc. Make sure the right people have access to the information, as well as version control, export permissions, back-ups, etc.

Curation

– the process of gathering and organizing information relevant to a certain topic with the intention to add value.

Dissemination

– what information needs to be distributed or shared and with who, in what format, how often, under what circumstances, etc. keeping in mind security protocols at the same time.

A

rchiving

– based on company policy and judgement, information needs to be archived at a certain time. Make sure to have an effective classification system in place that anticipates future uses.

Destruction

– destructing or deleting, Corporate Information and data may have an expiry data. It can be important for now but may not have any value in the future. Think of privacy laws that only allows you to store information for a specific period of time.
The process of effective knowledge management
The knowledge management process allows a company to get value from the data it holds by reframing, structuring and storing it. It's a sophisticated discipline that's central to the business because it connects each part of the organization.
The high-level discipline and process for knowledge management is based on:
Capture

– create, collect, classify

Distribute

– retrieve, share, manage

Utilize

– consume, reuse, enhance
Information management and knowledge management: key differences
Information is organized data obtained from various sources. Knowledge is understanding of the subject acquired from experience or education.
Information comes from data put together in a meaningful way. Information combined with experience and intuition, results in knowledge.
Information can be codified and it is easily transferrable using technology. Knowledge is both codified and uncodified but the the most valuable knowledge is often uncodified. The transfer of knowledge is therefore more difficult because it is unarticulated and requires experience or learning.
Information can be reproduced easily and at a lower cost. The reproduction of knowledge is more difficult since it is reliant on tacit knowledge.
Information is mostly about know-what, i.e. it offers a fact that you can then use to help create useful knowledge.
Information alone is not sufficient to make predictions about someone or something. On the contrary, knowledge has the ability to predict or make inferences.
Every information is not necessarily knowledge but all knowledge is information.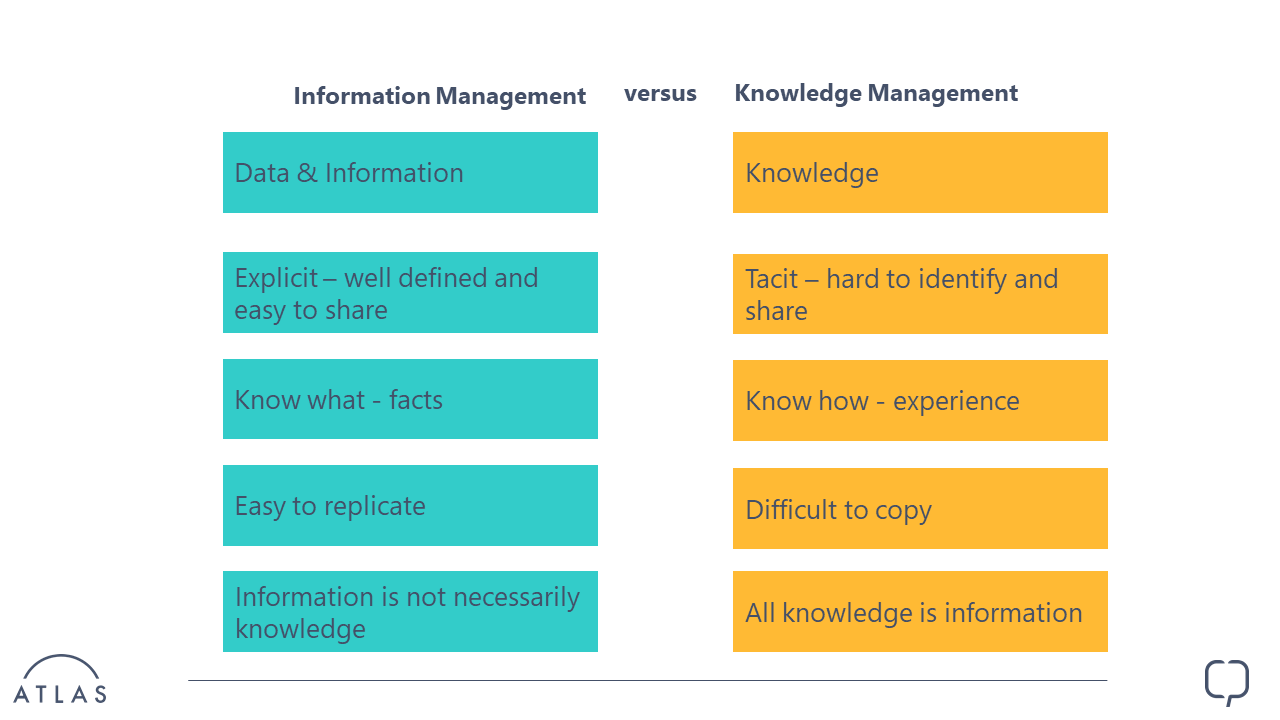 Information management and knowledge management are both important
Organizations should develop plans for addressing both information management (IM) and knowledge management (KM) requirements especially since information is growing at an alarming rate.
Information access is the element that links IM and KM. Knowledge management requires information access to be implemented as well. Ideally, addressing IM issues, processes and systems should be done in parallel with KM.
By providing people access to information and to the knowledge of others, this will then improve decisions and work processes, will enhance learning and, generally, will encourage people to become more creative and innovative.
How does information and knowledge management benefit the business?
Effective information and knowledge management reduces operational costs and improves productivity. Here are some of the clear benefits of a systematic approach to business knowledge management:
Hundreds of work hours are saved as people spend less time recreating existing knowledge and are able instead to apply that knowledge to new situations or solutions.
Increased innovation because people are able to benefit from collective experiences and learnings.
A governed approach to capturing, storing and surfacing information means people get the information they need faster, measurably saving time.
Being able to access information and gain from others' experience means fewer mistakes are made - resulting in significant cost and time savings.
Informed and streamlined decision making because information is readily available.
Improved and consistent business processes because information is distributed throughout the organization.


Examples of effective business knowledge management
People directory or expertise locator making it quick and easy to identify and locate people with expertise in a particular area.
Mentoring, shadowing and other training programs allow employees to acquire business knowledge by watching others work.
Lessons learned capture hard-earned knowledge - typically "how to do it" knowledge that would normally not have been explicitly captured - and make it available to other teams.
Communities of Practice (CoPs) are groups of individuals with shared interests that discuss problems and opportunities and share best practices and lessons learned.
Collaboration tools like Microsoft Teams allow teams to communicate and collaborate in a shared space. But these tools also store historical conversations, allowing employees to search for previously-discussed information.

Signs that your business needs better knowledge management:
Do different teams use different apps or software? How easy it for the data within these systems to be exchanged with and utilised by other business teams? With the proliferation of digital tools, having information stuck in silos is a common - and increasing - problem. And it exacerbates the effect on collaboration, efficiency and productivity when information is not able to be easily shared.
When an employee leaves the company, is the knowledge they've acquired lost to the company?
If an employee is absent, does productivity and decision-making stall?
How long does it take for a new starter to be able to start contributing and adding value? Is there an effective process for helping that person learn about the business and their role?
Do people feel they're in the dark? That communication is lacking?


Summarizing knowledge management vs information management

Information management refers to management of data (facts and figures) that has been obtained from different sources. This data is structured, organized and processed. Knowledge management is obtained via experience, education and the understanding of information.
Information management can only take you so far. Putting information in front of a person isn't the same as giving them the knowledge to use it. Knowledge management however does require information and addressing information management issues, processes and systems should be done in parallel with knowledge management.
By providing people access to information and to the knowledge of others, this improves decisions, work processes, enhances learning and innovation - benefitting the entire organization.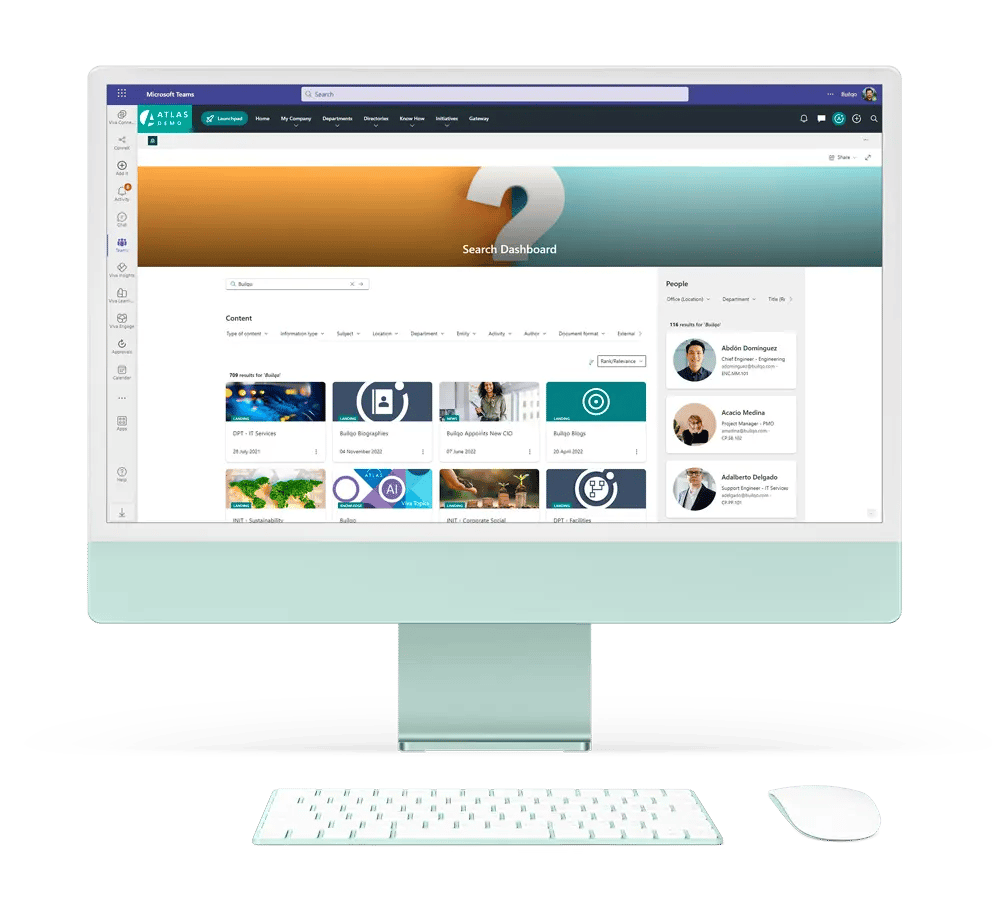 Atlas: The most advanced Knowledge Management Platform for Microsoft 365
Nothing else comes close to the power and flexibility of Atlas Knowledge Management Platform.
Platform of choice for organisations using Microsoft 365.
Delivers quick access to expert knowledge and a frictionless route to answers.
Bridges the gap between people, processes and technology to maximise return on knowledge.
Enterprise grade security, smart tools for provisioning and governance of Microsoft Teams that your IT team will love.
Knowledge management resources and references

More blogs about knowledge management
References
Thierauf, R. J. (1999). Knowledge Management Systems
Davenport, T.H and Prusak, L. (2000). Working Knowledge: How Organizations Manage What They Know
Wenge, E. Communities of Practice: Learning, Meaning, and Identity