DPOR automated how partners were attached as the Partner of Record for the subscriptions they were actively managing for customers for Microsoft Office 365, Microsoft Dynamics CRM Online, AX7, Microsoft Intune, Enterprise Mobility Suite (EMS) and Microsoft Azure.

The benefit for the customer was that the partner had access to the performance and usage data so they could provide better service and help optimize the usage for the desired business outcome.

Since 1 October 2019, Microsoft introduced CPOR - Claiming Partner Of Record - as a new customer association experience. CPOR recognises all partners that are helping their customers to deploy or adopt Microsoft 365 services (Atlas and/or Microsoft Teams, for example).


Why has Microsoft changed from Digital Partner Of Record (DPOR) to Claiming Partner Of Record (CPOR)?
This new customer experience is a direct result of partner and client feedback provided on DPOR:
DPOR is limited to just one partner per subscription. This had 2 problems as customers regularly work with multiple partners at the same time and the partner was dependent on the customer to define which partner could be associated to them.
The challenges of becoming DPOR meant many partners were never recognised for their contribution to a customer's adoption of Microsoft services.
DPOR had limited reporting which did not provide actionable insights for customers or partners, thus limiting its usefulness.
For Microsoft it was difficult to understand which partners were making a genuine contribution to customer success.

CPOR aims to overcome these issues and allows Microsoft to measure partner impact more accurately and with more precise granularity.

As a Microsoft partner, we play a critical role in supporting customers, not only in the initial transaction, but throughout the entire customer lifecycle, from deployment and adoption to ongoing maintenance and support. Therefore it is important for us to be correctly associated to the customers we're working with. This helps us to measure and track our impact through improved reporting and help drive continual improvement.

What is Claiming Partner of Record (CPOR)?
The new experience has been enabled since 1 October and is fully operational
It associates the partner or partners who are providing the deployment and/or adoption services to the customer.
Multiple partners are now empowered to create associations for their customers.
The customer association is created at workload level and no longer at subscription level as for DPOR meaning that each partner can be associated to specific tasks or platforms.

How does this impact you?
When you sign an agreement with us to provide planning, implementation or adoptions services for Microsoft 365 or if you implement our Atlas product, we will associate ourselves to you as a CPOR.

So, if you sign up for an Atlas delivery we'll ask you to:

We'll then associate the workload we deliver for you via the new claiming process Microsoft has put in place and which is based on the following details:
Our Partner MPN ID
The Customer tenant ID and the initial subdomain
The services in scope for the engagement
Your customer contact details
A signed agreement or project documentation from you that proves we're really delivering the services.


Please note that we fully respect your privacy and we don't provide full copies of agreements to Microsoft. We deliver proof of our engagement via snippets of the service agreement, invoice etc., but without providing any sensitive information.

After we've created the customer association in the Microsoft partner centre, Microsoft will then verify the details for the claim to ensure its accuracy. Once the claim is submitted, an automated e-mail will be sent to the your contact that we've provided to Microsoft (see example):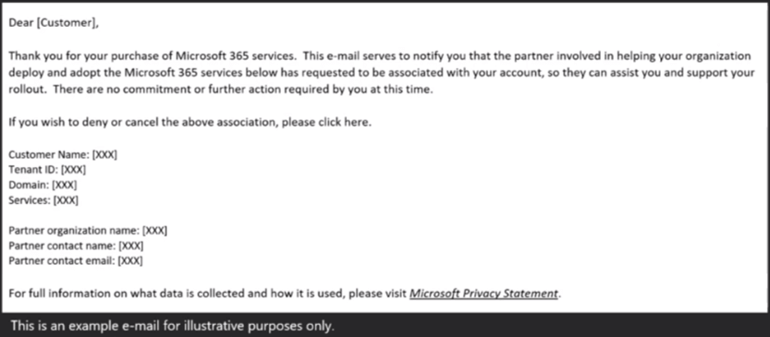 Several of you have already received an email like this as we have had to create the claims for our existing customer base. We want to thank you all for acknowledging and providing us recognition for the services that we've been providing to you for deployment and adoption of Microsoft 365.

As a summary of the above, this picture shows the CPOR customer association process: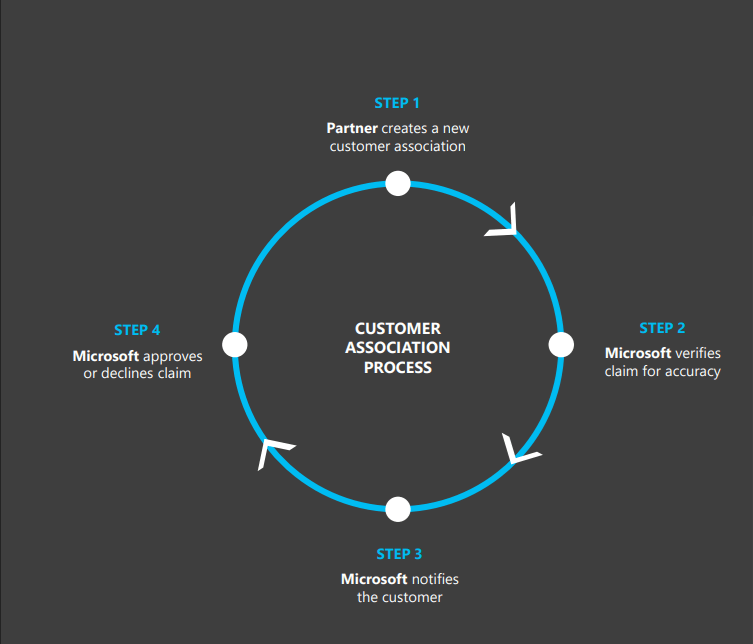 As a partner we're fully convinced that the changes Microsoft has implemented via this Claiming Partner Of Record experience is a big improvement for all concerned. As multiple partners can be properly recognized and associated for the exact workload they deliver, the whole arrangement better reflects the complex nature of most client engagements. As our client you will have a very clear insight into which partner to turn to for assistance with specific workloads within your Microsoft tenant.

If you have any questions in relation to this new Claiming Partner Of Record experience feel free to contact me and I'll do my best to cut through the mists of complexity to help you to understand and feel confident in these changes.