No…we don't have a magic ball but as a Microsoft Gold partner as well being actively involved in the Microsoft community, we are able to get some early insight. This blog will be updated regularly as new features are being rolled out regularly.


New Features
Show all people on a video call (May 2020)
Microsoft increased the number of participants shown in the main meeting window from 4 to 9 people (3x3 grid) of the most recently active.


Calendar & Desktop App Improvements (March 20, 2020)
Right-click an item in your calendar to pull up RSVP options, start a chat with meeting participants, or quickly join a meeting when it starts. Microsoft has also made improvements to the event scheduling form. For more details, click here


Work offline in the Windows desktop app (March 20, 2020)
Read and create messages, even when internet is slow or goes out completely. Pinned chats and channels, along with previously viewed channels will also be available while offline.


Tagging improvements (March 6, 2020)
Create tags and assign people to them so you can @mention a group, role, department, etc. Learn more about tags


Edit a post shared in multiple channels (February 28, 2020)
If you suddenly realise that after posting an announcement to multiple channels that there is a misspelled word or typo, now you have a chance to edit your post just like you would in a single channel. To edit, go to more options > edit to change the content of your post and add or remove channels.

Pin your favourite apps (February 21, 2020)
Teams now allows you the ability to pin your favourite apps to the left-hand rail (also known as the Teams app bar). Simply find the app you'd like to pin, right-click the app icon, and select "pin". Even after you navigate away, the app icon will remain on the left-nav so you can easily return to it.

Easily access meeting options from within a Teams meeting in progress (Roadmap ID 63334)
We are making it easier for meeting organizers to quickly and easily change their presenter and lobby settings once a Teams meeting starts by providing an easy to access link directly in the participants pane. This new functionality will be present for both scheduled and "Meet Now" meetings.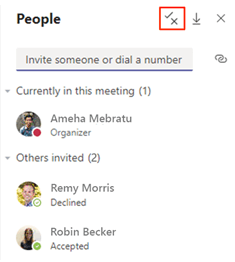 Download a participant report in a Teams meeting (Roadmap ID 63351)

Meeting organizers, especially teachers, often need to know who joined their Teams meetings. Soon you will be able to download a participant report, found in the roster view that includes join and leave times for participants. Available in the roster view, meeting organizers can download the report that includes those users who joined while the organizer was present. This feature is only available with the meeting while the meeting is active. Available on desktop (Windows and Mac) and the web.
The default for the feature will be DISABLED. The Admin will need to go turn this on through a PowerShell cmdlet to be able to utilize this feature:
Set-CSTeamsMeetingPolicy - Identity Global - AllowEngagementReport "Enabled"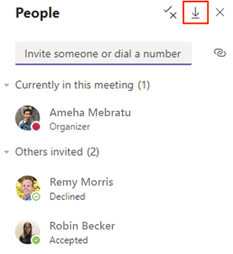 Audio playing on presenter device will be shared in the live event (Roadmap ID 63276)

Today, if you are screen sharing content with audio in a Live Event, attendees won't be able to hear the audio of that content. With Share System Audio in Live Events, your live event attendees will now be able to hear the audio of the content that you are screen sharing. This feature works just like share system audio in Teams Meetings. Once enable, any audio that is playing on the user's machine will be shared in the live event for participants to hear.
Note: This feature will only be available for Presenters/Producers in a Live Event joining from the Windows Desktop Teams Client with ScreenSharingMode set to "Single application" or "Entire screen".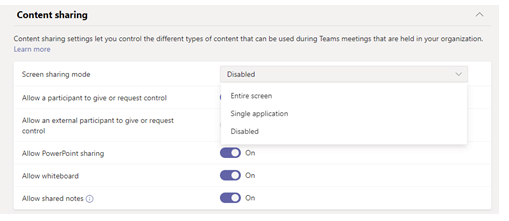 Update default policy to enforce lobby in meetings (Roadmap ID 63388)

All existing users who are assigned the "Global" Teams meeting policy will have the lobby policy "AutoAdmittedUsers" changed to "everyoneInCompany" and "AllowPSTNUsersToBypassLobby" changed to "False". That means, by default, a Teams meeting will have a lobby for external users joining via the Teams client or PSTN.
Previous policy settings:




New policy settings:


Assign a policy package to a batch of Teams users (Roadmap ID 63390)

With batch policy package assignment, Teams admins can us the "New-CsBatchPolicyPackageAssignmentOperation" cmdlet to submit a batch of users and the policy package that they want assigned to the group.
They can use the "Get-CsBatchPolicyAssignmentOperation" cmdlet to track the progress and status of the assignments in a batch. The assignments are processed as a background operation and an operation ID is generated for each batch.
Control profile picture settings in Teams Roadmap (Roadmap ID 63389)

Teams Web and Desktop experience now recognizes the Outlook on the web mailbox policy setting that controls whether users can change their profile pictures. Configured by tenant admin, this policy setting helps tenants promote a safer work or school environment by preventing inappropriate content from being used in profile pictures. If the -setPhotoEnabled parameter is turned off (set to $false) in the policy, users can't add, change, or remove their profile pictures. If users attempt to change their profile picture they will receive a message indicating that they are not allowed to.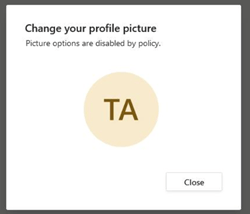 Set a default policy for "Who can present" in Teams meetings (Roadmap ID 63206)

Tenant admins will be able to set a new default policy for who can present. When organizers schedule a Teams meeting, the default tenant setting is honored, unless modified in the Meeting options. The default value is set to "everyone" and can be updated via PowerShell:
- Set-CsTeamsMeetingPolicy -Identity Global -DesignatedPresenterRoleMode"Insert Value"
-
Values: OrganizerOnlyUSerOverride, EveryoneInCompanyUserOverride, EveryoneUserOverride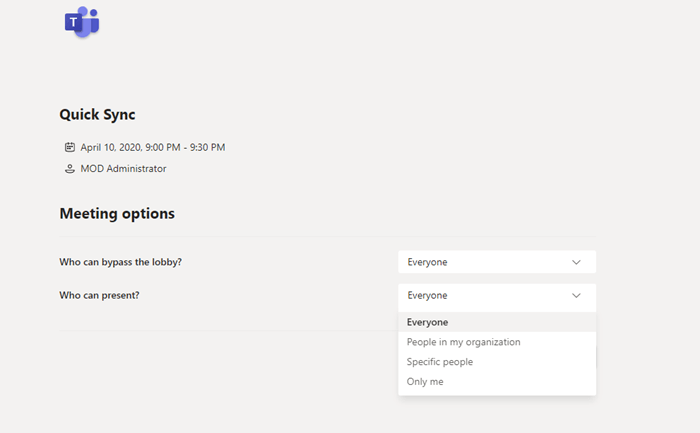 Features being worked on
Multi-window for chats and more
Our team are super excited about this new feature!
The Teams desktop client is getting its first pop-out window, but only for Windows. According to a clarification posted by Microsoft on March 23, they will "provide support for Mac and Linux clients in the coming weeks." The roll-out to Office 365 tenants begins in early April and should complete to all tenants worldwide by the end of May.

You can pop-out a window several ways. First, find someone you want to chat with in your chat list and either double-click a chat or select the Pop-out chat option from the […] menu or the fly-out icon - see below.




Include Office 365 group calendar in Teams
The Microsoft dev team are working on improving the view of the Office 365 groups calendar as you would in the calendar app. This would help to get a glimpse of what events and meetings are scheduled within the group.
Rename of Team Channel doesn't rename associated SharePoint files Folder
When renaming a Team Channel, the associated SharePoint folder continues with its previous name. This could lead to confusion. Microsoft have raised this as a priority, and this is currently being worked on. No dates have been provided as to when this will be released yet.
View or export a list of users who attended a meeting
Currently, there is no method of viewing a list of meeting attendees after a meeting has ended. Meeting organisers should be able to view or export a list of attendees, including enter and exit times, duration.
Screen Share from Chat (Roadmap ID 63193)
The option to start a screen share from a 1:1 or group chat will now be governed by the ScreenSharingMode policy. Further, the ability to "add audio" to a screen share from chat session (if you want to talk to someone while screen sharing) will be governed by a user's AllowPrivateCalling setting. This ensures that users who have AllowPrivateCalling disabled cannot start audio calls via screen share from chat.

Starting a screen share from chat:

Setting the ScreenSharingMode policy in Teams Admin Center under Meeting Policies:





Teams update process
The Teams web app is updated weekly. Read more here

Teams desktop client updates are released every two weeks after rigorous internal testing and validation through our Technology Adoption Program (TAP). This usually takes place on a Tuesday. If a critical update is required, Teams will bypass this schedule and release the update as soon as it's available.
The desktop client updates itself automatically. Teams checks for updates every few hours behind the scenes, downloads it, and then waits for the computer to be idle before silently installing the update.
Users can also manually download updates by clicking Check for updates on the Profile drop-down menu on the top right of the app. If an update is available, it will be downloaded and silently installed when the computer is idle.
Users need to be signed in for updates to be downloaded.