My journey on becoming an Apprentice
I am not ashamed by the fact, but yes, I am indeed a University drop-out. But without attending University, I would have not found my love and passion for marketing and being able to achieve objectives through creative means.
Although studying a degree in Quantity Surveying (which I quickly found out was not for me), many opportunities managed to fall into my lap because I was always referred to as a "social media guy" whilst at university… Don't ask.
I landed opportunities from multiple clubs and events to help run online campaigns and manage their social media accounts which is where I found my love for Digital Marketing and a sudden realisation that I would love to do something like this for the rest of my life.
Everyone I knew, especially my parents, discouraged me from dropping out of university, but I simply couldn't continue knowing I wanted to pursue a career in Marketing. That's when I looked at the alternative career path of Digital Marketing apprenticeships, where instead of going straight into full-time work, an apprenticeship would help boost any skills I currently have, as well as gain work experience to harness new skills. Earning whilst learning and achieving a globally recognised marketing qualification is a massive bonus too.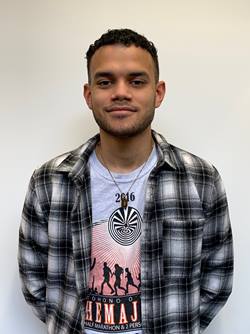 Being an Apprentice at ClearPeople
Starting as a young apprentice, I had my doubts on how I would be perceived by a company and the people who work there. Visions of potentially becoming the guy who makes coffees for everyone or just does boring admin work all day had never left my mind. But I can thankfully say after a month of working here, I couldn't be happier and more fulfilled with the opportunity I have been given.
I have been given the role and responsibilities as if I were just a regular employee. Handling the social media accounts, running online campaigns, hosting events at the Microsoft offices are all part of what I do. And it's fantastic!
Being surrounded by people who are super friendly yet so hard-working has been very ideal for me as it not only has motivated me to be the best worker I can be, but the best person I can be too. I haven't been here long, but I already feel very comfortable around my colleagues, which I think is vital in loving your job.
Look Beyond
The theme for this year's National Apprenticeship Week is 'Look beyond'. So, my message to people leaving school or fellow university dropouts is to look past the stigma's of doing an apprenticeship and take the plunge because it is a fantastic opportunity to grow and develop within the professional work environment.
Overall, my experience so far has been fantastic and after a month of working here, I already have a major sense of satisfaction and accomplishment. I couldn't be more excited to see the opportunities working at ClearPeople and my Digital Marketing apprenticeship will bring me.